A couple of years ago, as I got more and more intrigued by outdoor activities and combining them with travel, I found an article in an outdoor magazine about the most famous Swedish hiking trail, Kungsleden. It caught my interest and since then I knew that I, some day, would make this tour. At that point I did not know that I would, years later, marry a girl from Sweden that would share my outdoor interest and that we would, in the early approach of autumn 2014, hike the 107 kilometers from Abisko to Nikkaloukta.
Kungsleden is actually longer than our chosen tour. It stretches for approximately 450 kilometers (275 miles), from Abisko as its most northern point to Hemavan in the south. This path is sometimes referred as the "north Kungsleden", as there is actually a less known south part as well.
What distinguishes Kungsleden and other hiking trails in the north of Sweden is that they pass trough one of Europe's largest wilderness areas, they are far from any megacity and the nature is pretty much untouched.
The Swedish outdoor-hospitality is also a reason to visit the country, even if for shorter tours. They have a general public right, known as Allemansrätten (everyman's right), that allows public access to wilderness, which means that one can walk, bike, camp etc. on any land (except from private gardens, cultivations and with restrictions in nature reserves).
Kungsleden lies north of the Arctic Circle, in Lappland, a province in the northernmost Sweden. This province, together with some parts of northern Norway, Finland and Russia, build up Sápmi, a cultural region of the Sami people.
Along the trekking tour one can see traces of the Sami people, their summer-cottages from which the Sami herders watch over their reindeers until mid August. Unfortunately, we did not meet any Sami herders, due to our pretty late arrival to this region.
The trail is famous and visited by people from all over the world. Perhaps the closeness to the nature attract the most, but another important part of why Kungsleden is popular is because it is a well organised trail. There are signs showing the way, bridges over quick streams, planks laid down on difficult grounds to ease the walking, emergency shelters and boat-services to get across some of the lakes. Every 20km or so, there are huts with accommodation for those who decide that they want to travel light. Some of the huts host a small shop selling food and other walking needs.
The best time to hike Kungsleden is from mid-June to mid-September. During that period the huts are open and a cottage-host is always present. The trail ist busiest during mid-July and mid-August, due to the long days and warm weather, but keep in mind that the mosquitos are at their peak then. Additionally, the famous organised trek, Fjällräven Classic, take place in the beginning of August each year, so the trail is crowded. Who wants to avoid the swarm of mosquitos, better choose the last part of August to mid-September, prepare for cooler nights but stunning autumn colours of the landscape.
Kungsleden is not only about the hiking; it is also about the pure relaxation. When your tent is ready for the night and the dinner is cooking, you have time to enjoy the silence, the extraordinary views and the feeling of being in symbiosis with the nature.
Nutrition
Even though some of the huts along Kungsleden have shops where one could buy food, we still brought enough food for nine days. This decision made our backpacks heavier but we were fully independent. Some hikers stated that the food ransom in the huts could be pretty low in the end of the season and thereby we did not want to take any risks.
We paid attention to a varied diet. It is easy to pack spaghetti for every meal, but very boring in the end. Pasta with quick powder-sauces one day, tuna with instant mashed potatoes or couscous the next day. At home we made a porridge-breakfast-mixture consisting of powdered milk, oat-flakes and cinnamon, to wich we only added water and honey at the campsite and this was a real hit.
Meal
Day 1
Day 2
Day 3
Breakfast
Porridge with honey and nuts
Tea and coffee
Bread spread
Tea and coffee
Porridge with honey and nuts
Tea and coffee
Lunch
Hot cup with pasta
Wasa sandwich
Noodle soup
Dinner
Rice with sauce
Tea and coffee
Pasta with sauce
Tea and coffee
Potato puree with tuna
Tea and coffee
Meal
Day 4
Day 5
Day 6
Breakfast
Bread spread
Tea and coffee
Porridge with honey and nuts
Tea and coffee
Bread spread
Tea and coffee
Lunch
Wasa sandwich
Hot cup with pasta
Wasa sandwich
Dinner
Couscous with soup
Tea / coffee
Potato pancakes with cheese
Tea and coffee
Rice with sauce
Tea and coffee
Meal
Day 7
Day 8
Day 9
Breakfast
Muesli with nuts
Tea and coffee
Bread spread
Tea and coffee
Muesli with nuts
Tea and coffee
Lunch
Noodle soup
Hot cup with pasta
Noodle soup
Dinner
Pasta with sauce
Tea / coffee
Couscous with sauce
Tea and coffee
Pasta with sauce
Tea and coffee
Every meal was planned precisely and packed in bags. Each package was marked with B (breakfast), L (lunch), D (dinner) and a number for that day (1-9). Additionally we had snacks and bars for in between.
Equipment
In the following table you can get a hint of what should be in your backpack. The labels are not as important as the functionality.
| Topic | Item | Example |
| --- | --- | --- |
| Backpack | Volume: 70L and 65L | Osprey Aether, Osprey Ariel |
| | Raincover for backpacks | From Osprey or similar |
| | Tent for 2 people | Hilleberg Nallo 3 GT |
| | Tarpaulin to protect the tent bottom | From Hilleberg or similar |
| | Sleeping pads | Therm a Rest ProLite Plus |
| | Sleeping bags | Ajungilak Kompakt 3-Season |
| | Pillows | Cocoon Pillow Stuff Sack M |
| Clothing | Hiking boots | Meindl Borneo 2 MFS |
| | Socks | Woolpower 400 |
| | Underwear | Craft Stay Cool |
| | Functional undershirts | Craft Stay Cool |
| | Functional shirts | Long sleeves |
| | Warm top and pants for the night | Craft Warm Wool Pack |
| | Trekking trousers and belt | Lundhags Njeeru |
| | Cap | Fjällräven Serengeti |
| | Isolation jacket | Arcteryx Atom LT Hoody |
| | Rain jacket | Arcteryx Theta AR |
| | Rain trousers | Pair of overalls |
| | Scarf | Buff Wool |
| | Beanie | Arcteryx Beanie |
| | Sandals | Crocs |
| Kitchen | Trangia spirit burner set | Trangia 27-8 UL/HA |
| | Fire starter set | Ortec Magnesium |
| | Water bottles | Nalgene wide mouth |
| | Cutlery and plastic plate | From Esbit or similar |
| | Drinking cups | Stainless steel cups |
| Body care | Towels | Sea to Summit Pocket Towel |
| | Insect spray or oil | Djungelolja |
| | Sun glasses | Oakley |
| | Toiletries | Shampoo, soap, tooth paste, etc. |
| Utilities | Small first aid kit | Basic size |
| | Map | Fjällkartan BD6 |
| | Compass | Silva Expedition 15 TD-CL |
| | Trekking poles | Leki Yukon |
| | Headlamps | Petzl Tikka Plus 2 |
| | Knife | Mora Kniv |
| Technical | Camera equipment | Sony Nex 6 and lenses |
| | GPS device | Garmin eTrex 20 |
| Consumption | Food for 9 days | See proviant section |
| | Extra batteries | AA, AAA |
| | Burning alcohol for Trangia | Bought in Abisko |
| | Water | Found everywhere |
| | Spices | Small spice box |
Getting There
When starting your tour in Abisko, you have several ways to get there. Off course, car is an option, but most hikers either travel by air to Kiruna via Stockholm or by train to Abisko Fjällstation via Stockholm or Narvik.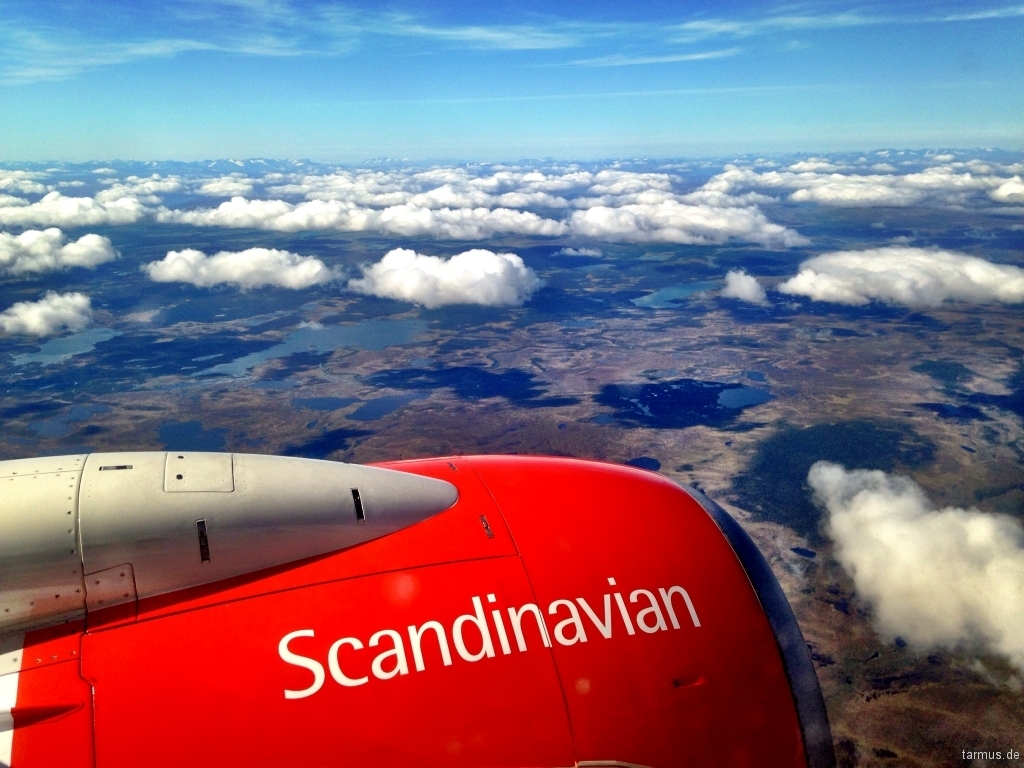 This post is a part of the following article: Hiking Kungsleden in Autumn