Wild Camping is generally not allowed in Germany. If you want to spend some days tenting outside, you have to go to defined camping places. However, in the Palatinate region (German: die Pfalz), Southwestern Germany, you can find a beautiful trekking path with wild camping opportunities!
Planning
The best place get informed about the region and its trekking capabilities is the Trekking-Pfalz-Website (in German). There you can get a lot of information about the wild camping places, the recommended trekking tours with GPS tracks, and other interesting tips about the required equipment, the region, and available accommodation opportunities. Via the website you can also book the wild camping places, which are limited to a maximum number of 6 tent-places per location.
You can choose between 10 different locations and plan your route as preferred. A tent-place costs 10 Euros per night and a maximum sized tent allowed is a 2-3 person tent. If you prefer to be alone there, you have to book all 6 places and pay for it accordingly. The locations are well chosen in calm nature areas, close to the civilisation, but with a sufficient distance to enjoy the stay outside. You will receive the concrete GPS coordinates of the places after the successful booking.
The best time to travel in the Palatinate region is from April to October. This time frame is also fix for the booking of the wild camping places.
We started our tour in Annweiler am Trifels and we booked the following camping places for our tent:
Orientation and Equipment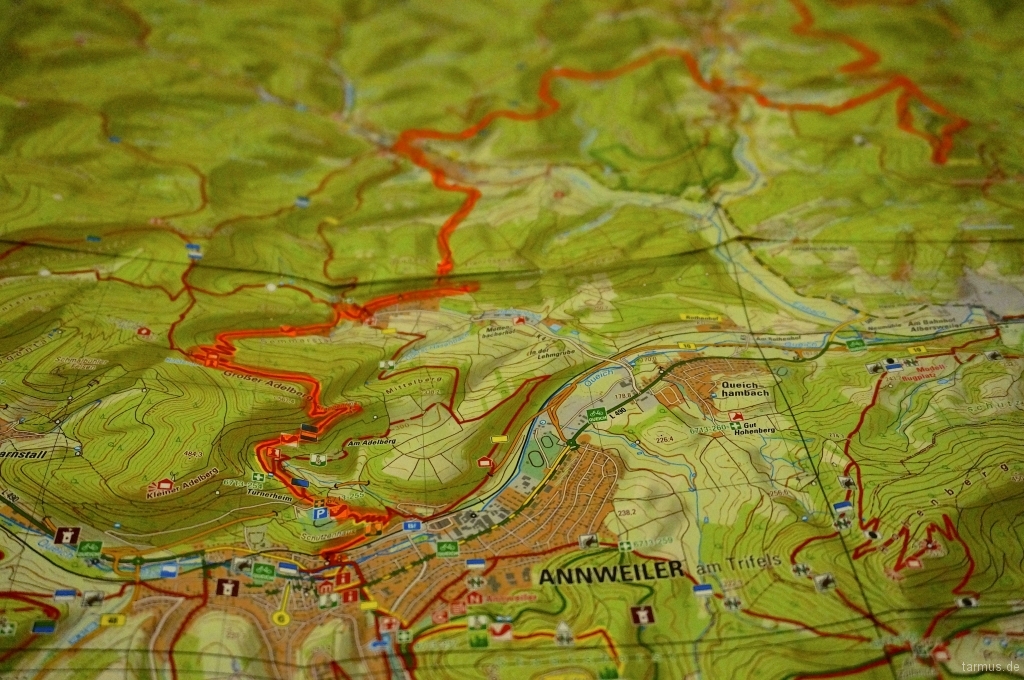 For our trekking tour we took the following topographic map (1 : 25 000), which covered all the mentioned places:
Regarding the equipment for the tour, we had the following in our backpacks:
Backpacks (70L and 65L)
Raincover for backpacks
Tent for 2 people
Tarpaulin to protect the tent bottom
Sleeping pads
Sleeping bags
Pillows
Trangia spirit burner set
Fire starter set
Water bottles
Towels
Insect spray
Sun cream
Sun glasses
Toiletries
Food
Clothing
Hiking boots
Camera equipment
Headlamps
Small first aid kit
Map and compass
GPS device
Because of the mountainous region we recommend that you bring your trekking poles.
Getting There
There are several possibilities (bus, train, airplane, car) to get to the Palatinate region and the starting point of your planned trekking tour. Our starting point was Annweiler am Trifels and here is how we got there:
Flight to Stuttgart (Airline: Germanwings)
Bus from Airport Stuttgart to Karlsruhe Central Station (Bus agency: Flixbus)
Train from Karlsruhe Central Station to Annweiler am Trifels (Train company: Deutsche Bahn)
Starting point
Since we had a flight to Stuttgart to get closer to the region and thus couldn't bring spiritus (German: Brennspiritus) for our Trangia spirit burner set, our first task in Annweiler am Trifels was to look for a store to buy some. If you have an opportunity to buy this before, do so, because there are not many stores in this little town and they close early. We found our bottle of spiritus in a bigger supermaket there, called Wasgau.
If you have some spare time, you can enjoy the little town, eat a meal or visit the Trifels Castle, the number one sightseeing attraction in Annweiler am Trifels.
The starting point of the tour is near the train central station.
This post is a part of the following article: Wild Camping in Germany